Need a new challenge?
Put your skills to use, learn new ones and play an active role in your local community. Volunteering is easier than you think. With full support and training, you can volunteer on a flexible basis.
We are looking for Leaders in all Scout Groups.












More information
Try over 200 activities
From archery and acting to street sports and zorbing, being a Scout gives you the chance to get stuck into loads of activities you wouldn't normally get to do.
Find your local group
We Scout – but why should you?
Make new friends
Have fun
Get outdoors
Learn exciting things












Get involved
Largest Youth movement in UK
The Stratford-upon-Avon District is made up of 7 Scout Groups, 2 Explorer Units and Network. It has 450 young people and 150 Leaders actively involved in Scouting ranging from 4-25 years old. Numbers have reduced during the Covid 19 pandemic but are now increasing again from the 130 youngsters on the waiting list. Most Groups have vacancies for youngsters.
Stratford-upon-Avon District Scouts cover an area from Pillerton, Shipston, Tiddington, Welford & Stratford. It is hoped to open a Scout Group in Bishopston and Long Marston (Meon) in the near future. All Groups are looking for new leaders and adult helpers. For details of vacancies see the Group contacts.
You do not need to be Bear Grylls to join us.
You do not need to have been a Scout when you were younger. You do not even need to know how to put up a tent. Our door is open to people of all ages, genders, races, and backgrounds, and we are only able to change lives because people like you lend a hand.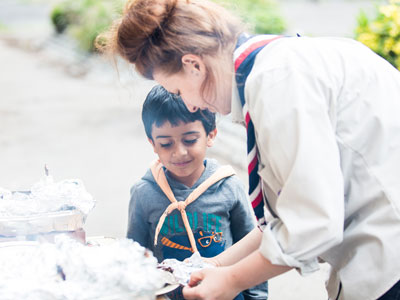 Volunteering is easier than you think.
Whatever your skillset, lend a hand for as little or as much time as you can spare, and we promise you'll get more out than you put in. <br>
We provide the training. You show up, get stuck in, and make memories for life.
Chief Scout - Bear Grylls
The Chief Scout provides inspirational leadership to the Scout Movement in the UK. The public face of Scouting, the Chief Scout ensures that we reach as wide an audience as possible.
Chief Scouts are appointed for a five-year tenure.
Bear Grylls was the UK's youngest Chief Scout when he was appointed aged 34.
As an ex-Special Forces soldier, he is not only known around the world as the host of hit survival TV series, he is also an inspirational speaker, bestselling author and a fervent supporter of young people experiencing adventure for themselves.
"I feel so honoured to be offered this position, and have always held such admiration for Scouts and all they do around the world. 'The Scouting Movement is a massive force for good, touching many, many young lives. Above all, it gives millions of kids the chance to live and learn about the wild and to experience real adventure."